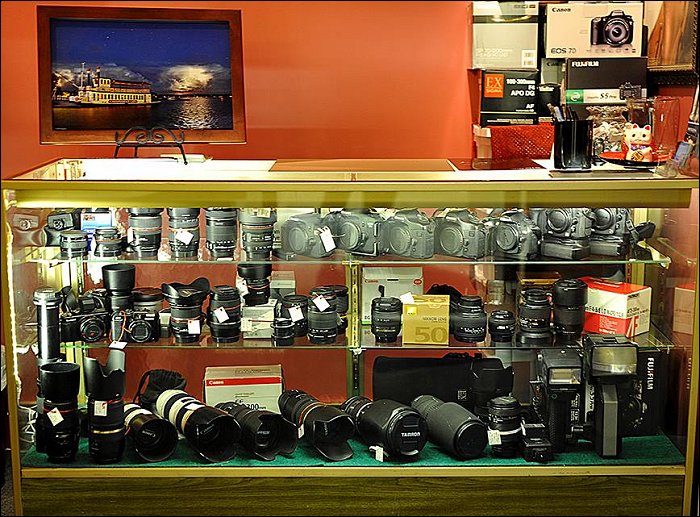 Sell your photography gear without the hassle.
We are taking measures to make the consignment shop a more effective space for both buyers and sellers. Stay tuned as we make some modifications that we hope will make it easier to connect buyers to the right gear from our sellers.
Here's the latest consignment shop list…July 16, 2019 Update:
Sell your gear without the hassle. Finger Lakes Photography Center in Canandaigua is now stocking the camera consignment shop. We do a very modest 25% consignment fee to sell your gear for you, in addition to hosting classes and workshops, studio rentals, large format printing and more…
Consignment Shop Hours are typically Tuesday-Friday 10:00-5:00, HOWEVER, we are a full time photography studio which has us out of the studio at times during those hours. Please call ahead at 585-393-9242 if you would like to stop down to make sure we're in.
We are now accepting Mac computers and iPads in to the consignment shop. These are indispensable tools for photographers so it seems like a natural fit to carry them here. We are also expanding to include items for birders such as spotting scopes, binoculars, field guides, feeders and bird houses and birding related art.This ad changes often so please check back for updates to our equipment list.
Our current inventory includes:
For Canon:
Canon 6D $750 (New Price)
Canon 70-200mm f2.8 EF IS $750
Canon Rebel XSi w 18-55 EFS lens
Tamron SP 70-300mm AF VC $250
Canon 35-80 Non-IS $30Canon 18-55mm IS $85
Canon 18-55mm Non-IS $70
Canon 75-300 IS USM $325
Canon 28mm f2.8 $100
Canon 55-250 IS $235
Tamron 90mm f2.8 macro $495
Tamron 24-70 f2.8 $595
Tamron 28-80mm f/3.5-5.6 for Canon $50
Tamron SP 35mm f/1.8 Di USD Mint $525
Tamron 10-24mm $250
Lensbaby 3G with Aperture Disks $100
Canon 1.4x teleconverter $225
Canon 580 EX-II Flash $175
Canon 580 EX-II Flash Missing Diffuser $150
Canon 550 EX Flash $75
Canon 550 EX Flash $75
Canon 540 EZ Flash $45
Canon 540 EZ Flash (broken)Canon 430 EX II Flash $100 (2 available)
Canon 188A flash
Canon Rear Lens Caps and Body Caps $5 Each
Canon Camera Straps, OEM $10 each
Canon 1.4x EFII Teleconverter
Pocket Wizard Flex TT5 and Mini TT1 for Canon $250
For Nikon:
D700 full frame body $425
D300 body with MB-D10 Grip and two En-EL4 batteries $275
D70 Body $100
D5100 Body with 18-200 f3.5-5.6VR $325
Nikon 55-200 f4-5.6G VR $75
Nikon 55-200 f4-5.6G VR $75
Nikon 24-85 f3.5-4.5G VR $275
Lensbaby $40
Tamron SP 1.4X Teleconverter $150
Nikon 1.4 x EX Teleconverter $75
Meike Battery Grip for D7000 (broken battery door latch. Make Offer)
Nikon Flashes SB-80DX, SB-24
SB-800 Has small crack in front plastic but still works as it should. $150
Nikon WO-1A WiFi Adapter $29

For Sony/Minolta:
Sigma 70-300mm Minolta A mount $95
Minolta Maxxum 1800 AF
Minolta 280 PX

Film Cameras:
Canon EOS 630 with 35-70mm $59
Canon AE-1 Program (Multiple copies)
Canon AE-1 Program with 50mm f1.8
Canon AE-1 Program with Promaster 28-70mm 3.9-4.5, Canon 188A Flash and Tamrac 602 case $135
Canon Rebel X Canon EOS 650 (Body Only): $30
Canon TX with 28mm f2.8
Canon TL
Canon AE1 Program with 28-105mm f2.8-3.5
Canon EF with vivitar 70-210 f3.5
Canon 50mm f1.8 $75
Canon FD 50mm f1.4 (recently CLA'd)
Canon 100-300 f5.6 $100
Canon mount Formula V 135mm f2.8 lens
Canon mount lens, Quantaray 135mm f2.8
Canon mount lens Chinar 75-200mm f4,5 macro
Canon mount lens Vivitar 70-210mm f4.5-5.6
Canon mount lens Tamron 80-250mm f 3.8
Canon mount lens Nikura 60-300mm f3.9 macro
Canon mount lens Sigma 75-210 f3.5-4.5
Nikon F4 $250
Nikon 90S $50
Nikon MD-4 Motor Drive, SB-16 Flash
Nikon F3 with MD-4 $175
Nikon SB-16 Flash
Nikon FA w/MD15 Motor Winder, with 43-86mm f3.5
Nikkormat EL with Vivitar 85-205 f3.8
Nikkormat with 50mm f1.2
Nikkormat EL with AW1 Motor Winder $50
Nikon 135mm f2.8
Nikon FE with 75-205mm f3.5
Nikon N8008 with 28mm f2.8
Nikon manual focus 28mm f3.5, 55mm 3.5 Micro, 50mm f1.4 Pre-Ai
Nikon mount lens Vivitar 28mm f2.5
Nikon mount lens Tamron 28-80 f3.5-4.2 macro
Nikon mount lens
Tamron 70-220mm f4 Pre-Ai manual focus $50
Nikon 70-210mm f 4-5.6 $50
Nikon mount lens Vivitar 75-205mm f3.8
Nikon 50mm f1.8 $90
Nikon N80 with Grip $125
Minolta X-7A with 50mm f1.7
Minolta XG1 with 45mm f2
Minolta XG9
Minolta X700
Minolta X-370
Minolta SRT200
JCPenney 28-80 mm f/ 3.5 Multi-Coated Lens Manual Focus for Canon $40
Vivitar Series 1 70-210mm C/FD $59
Hanimar Praktika Super TL with Shutter Release
Ricoh XRP Multiprogram with 28-70mm macro f3.5-4.5
Pentax MG with Soligor 35-105mm f3.5
Olympus OM1 with 50mm f1.8
Olympus 70-210 f 3.5-4.5
Olympus mount lens Vivitar 75-260 f4.5
Miranda dx-3 with Soligor 135mm f2.8
Miranda 35mm f2.8
Miranda 50mm f1.8
Pentax K1000 with 50mm f2
Pentax ME
Pentax mount lens Chinar 135mm f2.8
Pentax mount lens Quantaray 70-210mm f 4.6-5.6
Pentax mount lens Promaster 80-200mm f5.5
Pentax mount lens Cimko 80-200mm f4.5
Pentax mount lens Sigma 28-80mm f3.5
Pentax mount lens Konica Autoreflex TC 50mm f1.7
Konica FT-1 motor with 50mm f1.7 and X-36 Autoflash
Konica FT-1 motor (body only)
Konica Autoreflex T3 (x2)
Minolta SRT SCII
Konica mount lens JC Penney 80-200mm f3.9
Konica mount lens Vivitar 70-210mm f3.5
Konica 135mm f3.5
Konica mount lens Hoya 135mm f2.8
Konica Long Cable Release
Vivitar 2x teleconverter
Vivitar 135mm f2.8Vivitar 35-70mm f3.5-5.8
Vivitar 80-200mm f4.5
Minolta 50mm f1.7
Minolta 2x Teleconverter
Yashicanon-R 75-230mm m42 screw mount
Hoya Tele-Auto 135mm f2.8 m42 screw mount
Aragon Auto 200mm f3.5 m42 screw mount
Range Finders:
Rollei XF35 $125Yashica 35-ME $50Yashica MG1Olympus XA2 with X11 Flash: $60Minolta Hi-Matic 11 $35

Mirrorless:
Sony NEX 7 Mirrorless Camera $350
Sony 50mm f1.8 OSS $225
Sony 16mm f2.8 $175
Sony 55-210mm $175
Sigma 30mm f2.8 Art for Sony $150
Sony HX300 Camera $250
Nikon P900 $375

PolaroidSpectra AFLand Camera

Camera FiltersCokin System – Star4 – Gradual T2
Spot In Color 1
Sunset 1
Sunset 2
Pastel 1
Diffuser 1
Diffuser 2
MultiImage x5
Pastel 2
Pola Red/Blue
Dreams3
Sunset 2
Gradual G2
Coef. +3 Red
Coef. +2/3 Yellow
Coef. +2Blue 80A
Coef. +1 2/3 Pola
Coef. +3Red
Coef. +1/3 Yellow
Coef. +3 Sepia
Coef. +2/3 Green
Screw-Filters49mm Polarizer49mm 85B49mm Red49mm 80A49mm Cross 49mm yellow52mm skylight52-62mm Step Up Ring55mm Diopter Set in case55mm 1A58mm 1A62mm Polarizer62mm Soft FX367mm Polarizer72mm 80A72mm Polarizer

Camera Bags:
Jill-E Designs:
Remaining stock of Jill-E bags bought from Jill-E when they closed being sold at 50% off.
Dozens of bags and iPad sleeves are in stock. Come get them before they go on eBay.
"Just" discrete Camera Backpack $69 ($35)
Red Rolling Bag $150 ($75)
Green Rolling Bag $100 ($75)
Caryall Messenger Bag $35 ($18)
Jack Lens Bag $15 ($8)
Tamrac LTX Series Camera Bag $15
Case Logic SLRC-201 Zoom Holster $25
Ruggard Commando 36 Camera Bag $25
(New Price)Think Tank:Skin Double Wide $35
Lens Changer 75 $35
Lens Changer 35 $25
Speed Changer $45
Thin Skin Belt XL $25
Pro Speed Belt XL $35
Large Lens Drop In $35
Lens Changer 50 $30
Skin Chimp Cage $30
Speed Demon Belt Pack (New) $100
Lightning Fast Flash Pouch (New) $25
Strobe Stuff flash pouch $35
Urban Disguise 40 V2.0 $100 (New Price)
Other:Tamrac Rally 58 $49.99
Tamrac 5547 Backpack $50
Tamrac Digital Zoom 4 (1 Black/1 Grey) $29.99
Tamrac Zuma 3 Messenger $49.99
Vintage Leather Camera BagsHard Cases

Studio Lighting:
Elinchrom Strobes – 4 Sets of three strobes (600S) in cases with Pocket Wizard MultiMax triggers.
White Lightning (Paul C. Buff) X1600's (Three of them) with cords and bags $350 Ea.
White Lightning (Paul C. Buff) X800 with cord and bag. $300
White Lightning (Paul C. Buff) LG4X Controller plus grids and barn doors. $75
White Lightning Set $1250 takes all four plus accessories.
Photogenic Powerlight 1250DR Power Pac with 500ws Studio Strobe $125
JTL 575 Watt Still/Video Light Kit with stand and Light Box…$100

Flashes:
Yongnuo 560 III Flash $50
Insignia Macro Ring Flash $30
Pocket Wizard AC3 Zone Controller (Nikon) $70
Calumet ProSeries Wireless Trigger Set (1 Transmitter, 2 Receivers): $80
Phottix Stratto Wireless Trigger Set (1 Transmitter, 2 Receivers): $80
Sunpak 522 $25Sunpak PZ40 for Canon $45
Vivitar 285 (x3) $65
Quantaray QTB 9500AVivitar 2000 (x2)
Sunpak 440 AF-NE (Nikon)
Black's ST45Phoenix D91-B25 (in box)
Starblitz 3800 DFS
Vivitar 200Promatic H600
Promatic TBL
Gary Fong LightsphereGary Fong Origami
Lightmeter:
Gossen Luna ProLightmeter: Gossen LunaSixLightmeter: Gossen Luna LuxLightmeter: Gossen SixticolorLightmeter GELightmeter: Sekonic L-308sLightmeter: LentarLightmeter: Weston Master IILightmeter Minolta IIIF

Off the Wall studio set $950
Tripods
$15-256×7 Canvas backdrops 3 assorted styles $50 eachPhotography books $3 eaCamera brackets $25-50Olympus SP-550 $5010×20 Muslin Backdrops $75 eachLight Stands $25 eachWhite shoot through 42″ Umbrellas $20 eachTripods, Monopods and Heads:Tripods
Sunpak
2001UT $25
6601U $29
8001U $39
6630DX $45
6630LX $45Lightstands
JTL 800 5013 $35
Giotto LC325 10.7ft $65
Manfrotto 3333 9.5ft $75Video Bracket
Sunpak 1000 AVG $10Velbon VE 3 Tripod (needs head) $15Bogen 3025 HeadBogen 3265 Trigger Grip HeadBogen 3229 Monopod with swivel head and feetManfrotto 3030 Head x2 $65 eachRavelli Trigger Grip tripod head…$50Targus MP6710 Monopod

Accessories
ExpoDisk 82mmNikon FA/FE2 Focusing ScreenNikon No.ST CloseUp LensCanon Accessory CouplerAgfa Flash Cube Holder
Studio Backdrops, Papers, Fabric and more just arrived. Photos to follow shortly.

Wanted:
Nikon Macro, Nikon Wide Angle, Sony A & E, Canon and Nikon Entry Level DSLRs
Inventory of camera and studio equipment growing daily. Currently seeking Nikon, Canon, Sony, Olympus, Sigma, Pentax, Tamron, Tokina, Tamrac, Lowepro, Domke, Tenba and more.For more info visit the Finger Lakes Photography Center page on Facebook.
Call 585-393-9242 or visit the Finger Lakes Photography Center page on Facebook.